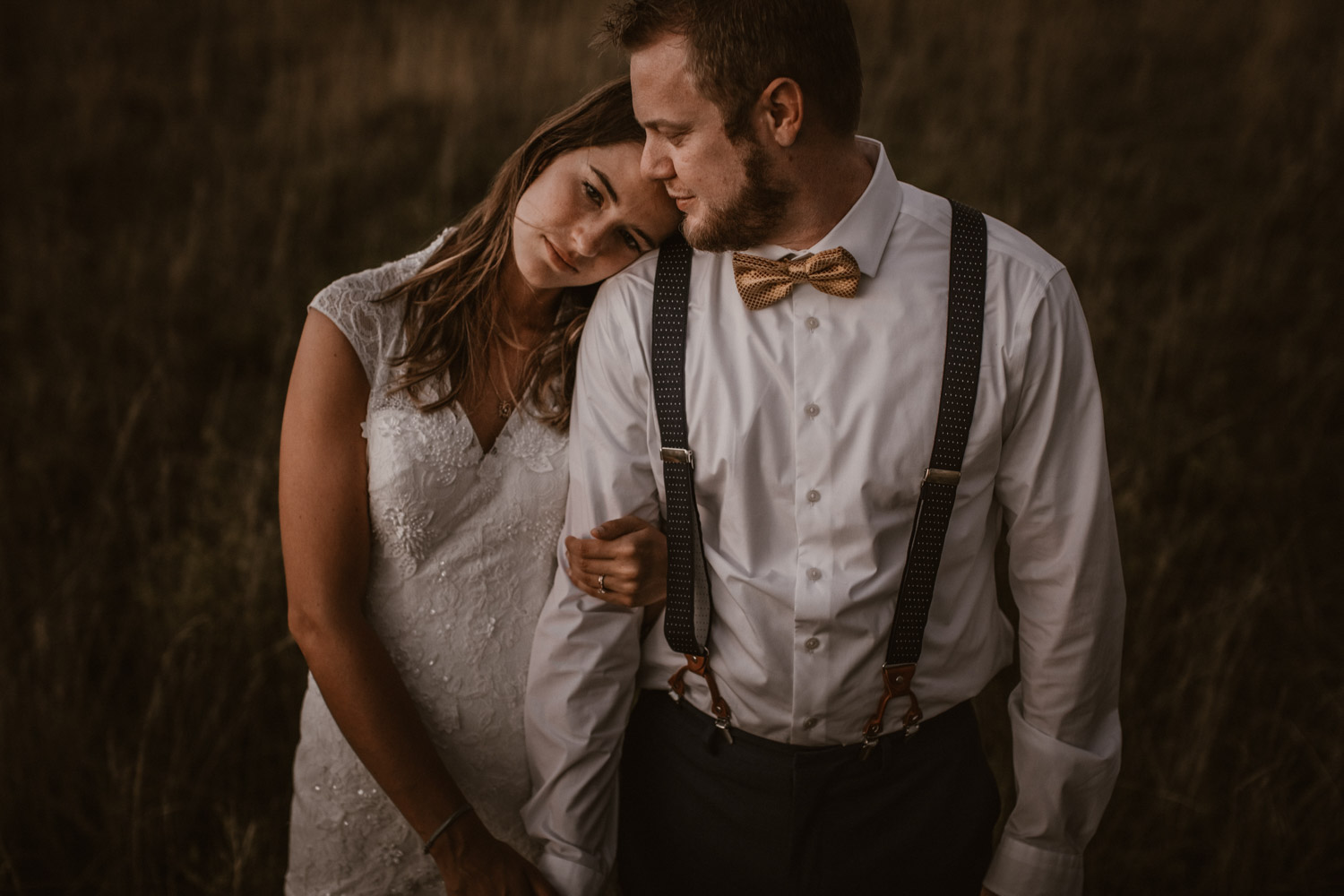 Ben & Camrianne | Destination Wedding Photographer
There are normal wedding photographers, and there are people called "destination wedding photographer", whose job is to travel to a different country every weekend, to a so-called "destination wedding" – a wedding abroad, in a particularly beautiful place. For many smaller wedding photographers, this is an absolute dream and they are working towards being booked for these types of weddings. I wouldn't say no to that, either, but in my situation it's not realistic to do it regularly, because my main job is not wedding photography and I can't afford to travel every weekend. Nevertheless, it is of course incredibly attractive, and besides a wedding in Tuscany, photographing a wedding in the US has long been a little dream of mine. Different landscapes, different traditions – this results in a different aesthetic that Swiss wedding photographers usually don't encounter. Although I haven't been in business for 30 years and haven't photographed 100 weddings yet, I'm always happy when a couple dares to make their day a little different from all the others. Routine reliably destroys creativity; variety and new situations, on the other hand, encourage it, and so I was incredibly happy when, due to fortunate circumstances, this opportunity arose for me. We planned the whole thing at relatively short notice, and due to a lot of good and bad stress in the weeks before, I couldn't think too much about it. At some point the big day suddenly arrived and I packed my suitcases – half full of cameras, lenses and flashes – and set off. After an 11-hour flight, I landed in Denver late in the evening and was warmly welcomed at the airport by the bride to be and 2 of her 11 nieces and nephews. Less than 30 minutes later, I found myself in a drive-through of an American fast food chain for the first time – the children who had waited so patiently for me should be rewarded! It was typically American. And I, being a typical Swiss, controlled myself and abstained from eating any form of sugar bomb. Shortly afterwards, we arrived at the farm of the very big family, somewhere in the middle of nowhere in Colorado. I couldn't see much in the darkness, but I was greeted very warmly and fell into bed a few minutes later. Unfortunately, the tiredness didn't stay long, thanks to jetlag. After I had laid awake in bed for another 6 hours, the big house started to become more alive and I gradually got to know all the family members. To this day I am not yet completely sure who is whose brother or cousin, but the warmth with which they welcomed me is shared by all of them. So, a week full of preparations for the one big day began. Baking muffins (roughly speaking: a layer of chocolate, a layer of peanut butter and another layer of chocolate), unpacking and preparing decorations, packing presents, the bachelorette party… We were busy and the days flew by. One day before the wedding, the rehearsal dinner took place – something we usually don't have in Switzerland. I loved watching it, and the big family dinner afterwards was delicious!
Perfectly prepared, the big day was finally there, and although the wedding ceremony took place at 5:30 p.m., the preparations (hair & make-up) already started at noon. I think you can vividly imagine the chaos when a bride, 6 bridesmaids and 6 little girls have to get ready for a wedding in a single room. In between, I sometimes rushed into the house across the street, where the "boys" were getting prepared. They were playing cards or video games. An oasis of tranquillity compared to the house next door! It was 37°C, and the very second that we wanted to go outside for the photos of the bridal party, it started to rain. "The weather in Colorado is safe in July" Camrianne originally told me – well, not that day! Fortunately, it stopped soon, and afterwards we were very happy about it, because the temperatures cooled down a bit. After we had taken the group shots, everything was ready for the ceremony to start. One short, but beautiful and very funny ceremony later, the whole thing was over before I knew it, and the reception could start. A long-cherished dream of mine came true. The dinner took place outside, decorated with these beautiful chains of light bulbs! Thanks to a perfect sunset, we had the chance to do a short, but incredibly beautiful couple shoot after dinner, just next to the house and the wedding party. One of the advantages of living in the middle of nowhere! After a few speeches, the "first dance" of the couple as well as the father-daughter dance took place under a sea of lights – a photographically demanding situation, but still one of my absolute highlights. The "sparkler exit" at the end fulfilled another photographic dream of mine (not so much a tradition in Switzerland), and a very exhausting but utterly unforgettable day came to an end. Two days and a short visit to the Rocky Mountain National Park later, I flew back to Switzerland with a head full of new experiences and priceless memories. Thanks to everyone who made this possible – it was an incredible week. I could get used to being a destination wedding photographer!
The big day …