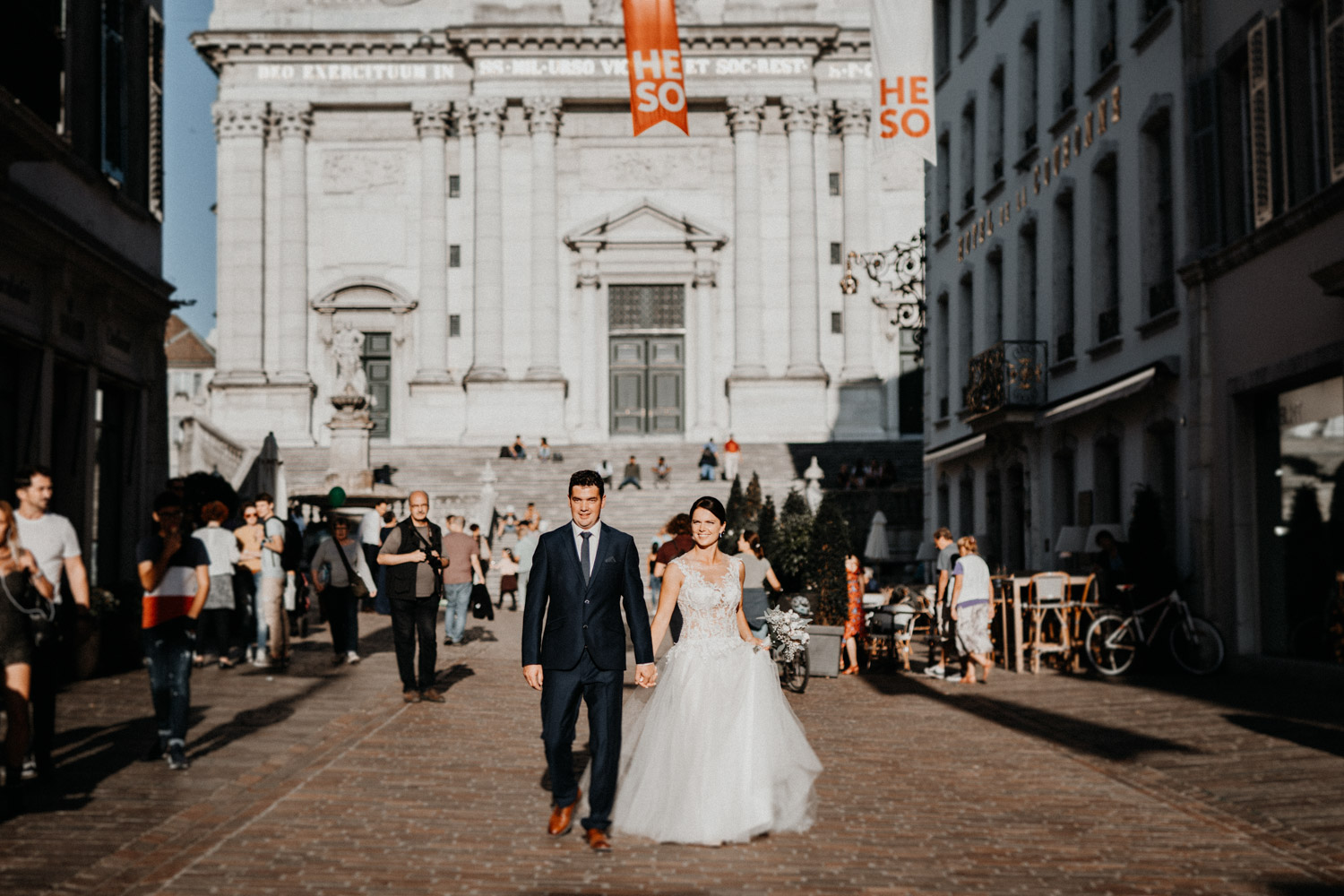 Chrissi & Silvan | Wedding Photographer in the St. Ursus Cathedral Solothurn, Switzerland
Ever since I saw this beautiful church for the first time, I've dreamed about being booked as a wedding photographer in the St. Ursus Cathedral in Solothurn, Switzerland. Even though Chrissi and Silvan didn't get married in the St.Ursus Cathedral itself, we still had the chance to take some portraits in there. The whole day started by getting ready in the beautiful La Couronne hotel in the old town of Solothurn. While organizing the last few things over the phone, Chrissi was made up by her sister and got dressed in her absolutely stunning wedding dress. Since their location for the ceremony was only a few hundred meters away, Chrissi, her sister and her father all walked together from the hotel to the location of the wedding ceremony. I absolutely loved it! Such a beautiful and meaningful thing to do, and an awesome opportunity for me to take pictures in an unposed and documentary style. The old town of Solothurn was crowded with people because there was an autumn festival that day, and I heard so many people whisper about how beautiful Chrissi looked! After a short but very funny and heart-warming ceremony (held by the sister and a good friend of the two), Chrissi and Silvan had their reception in a small park right next to the river. Then, finally, we left to take the portraits and strolled through the old town towards the St. Ursus Cathedral. There are so many spots to take good couple portraits in such a gorgeous place! Old buildings, coloured walls, small alleys… and of course the cathedral! The lighting was breath-taking in there!
When we returned, a very special "car" was waiting for the two – a tractor! I personally ride horses, and many of my clients are also horse people – these two were no exception! They run an equestrian centre together, and while Chrissi is more responsible for the riding, Silvan looks after the farming part of the business… and that's how they ended up driving through the old town of Solothurn in a tractor! It was so incredibly cool. Thank you to all the people involved who made this such a special day – not just for the bride and groom, but also for me as their wedding photographer!